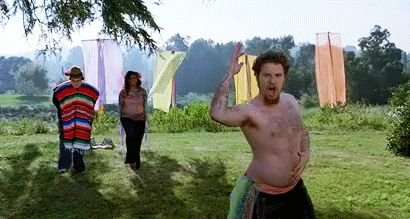 If you haven't already read the first part of this post, you can do so here.
From everything I've understood thus far, most rappers on this list do not really give Astrology that much credence. So it goes with woo-wooey pseudosciences. But everyone's a conspiracy theorist, and everyone's right, and right here, everyone is an Aquarius.
The water bearer is tasked with holding air and water; in the Zodiak, air represents the mind, conceptual understanding, new thoughts and direct revelation. Water represents communication, energy between people, consciousness, and the collective unconscious. These two things together are the Aquarian MO, and those two things together make the exact type of brain that could make an inimitable spoken relay of concepts and cultural understanding.
That's a rapper's purpose, if the institution of The Rapper were to be condescended to enough to call them merely a cog in the cultural wheel. Anyone who is worth their weight in white AF Ones knows that The Rapper, or as Milo calls in his most recent record who told you to think??!!?!??! The Poet, has a purpose in dredging up both the collective ancestral memory, stirring that together with the current collective subconscious, and translating that into words and aesthetics. There's a reason there are as many rappers, and rap in itself as a discipline and collection of aesthetics and culture is so defined, and more often than not aggressively imitated by the entire institution of music outside of itself. In the mind of this writer an Aquarius is the right sign for the job. (At least when a Gemini is not available, but we can save that argument for Gemini season.)
The following rappers are most notable in my mind for constructing their own aesthetic within the paddock of rap that is so self-defined that it becomes inimitable. The kind of aesthetic that causes an entire persona to be bitten off for an art film without any permission and without any confusion about what character was being imitated. There isn't a single rapper on this list who didn't build a career on these precepts.
The vastly underrated rap-Magellan Busdriver's mentorship and influence on internet indie rap phenom Milo's aesthetic and lyricism during their time in the much-lauded Hellfyre club collective is an example of Aquarian torch-passing. Both writers work is based around slant analogies, hyperdense literary and cultural reference points and conceptualizing afrocentric philosophy behind beats that were c-sectioned out of the deep web. Rick Rubin's unquestioned interdisciplinary musical dominance.
Lil Debbie and Riff Raff's frequent collaborations make sense given both artists are Aquarian. Any weirdness can be eclipsed easily by the greatness of artists like Rakim and Lupe are the pet favorites of anyone who prides themselves with understanding the Hip-Hop cannon. Anyone who has a top five dead or alive has Rakim on there, it's one of the unwritten rules of old-head-ism. Similarly, every rapper who has ever self-identified as conscious has cited Lupe as an influence. I should bring up J. Cole's name here too but generally in my life I try to say J. Cole's name as little as possible.
Aggression factors into this placement too. There is already a huge legacy of aggression in general in rap and that's not thanks to aquarians. However, the fact that Xxxtentacion and Denzel Curry (possible the two most imitated artists in the world of agro-trap), El-P, and Daveed Diggs are all Aquas is telling into something deeper about the nature of gnostic darkness. Influence is a word that keeps coming up to describe artists on this list, especially when you look at the mind bending career of Rick Rubin, Kevin Gates' blow up with no co-sign, Gucci Mane's unquestioned ownership of anything trap related that succeeded him.
You can decide for yourself if Aquarius energy is most attuned to the discipline / artistry / lifestyle / mode-of-humanity that rapping represents. That's your MO. I don't know if Aqua or Gemini wins in a battle of who makes the best rappers, but Aqua definitely knows how to come strong.
The following performers on this playlist are all Aquarians. The writer of this peice is an Aquarius themselves, and feels kind of gross writing about Aquarius-centric patterns. The list of performers itself seems valid enough itself to communicate the aesthetic the writer is getting at.
Enjoy the following.