Music Saved My Life: Hot Fuss
Music is obviously a big part of us here at Distinction Music Management. In this poignant series Music Saved My Life we dive into songs and albums that have lifted us up when we needed it the most. Exploring what it means to have music literally save you from the depths of hardships. Learn a little bit more about our fellow human and maybe reminiscence on some old favorite tunes.
When I started looking at reviews of The Killers' 2004 debut album, it hurt my soul a little bit. Pitchfork rated it a 5.2 and essentially called it glam rock trash, but that didn't stop millions of people from acting as if they were born singing the lyrics to "Mr. Brightside". This album absolutely defined a generation and played a major role in my own life.
Hot Fuss was released in June 2004, about three months before my youngest brother was born and I started Kindgergarden. I don't remember much of my life before this album. It has been there for me through pivitoal life moments, like heading to softball practice with my best friend, hanging out with my cool cousins and brothers, and grieving the loss of my mother. Through it all, Brandon Flowers has been one of my main comforts.
"Jenny Was A Friend Of Mine"
The opener to this record is a bit complex. It's about a murder. If you listen to it with your eyes closed, the bassline and whirling helicopter noise set the scene perfectly. It's windy, dark, and rainy outside a police station where a boy has been taken for questioning about Jenny's murder. He gives the detectives his side of the story and states his innocence through the simple line, "there ain't no motive for this crime, Jenny was a friend of mine" which rips through the nervous energy and confusion of this song. The listeners never get the truth about the boy's involvment, but that's what makes it so compelling. I'm drawn back to the song over and over to find closure. I'm convinced that the answer is hidden in the song, but like some things in life, we may never have an answer.
"Mr. Brightside"
Infamous. A song that has ended wars and reunited families. This is perhaps the catchiest song ever written. It builds like the sea as Brandon Flowers urgently tells the story of how he was forced into his cage by an infidelity on his girlfriend's part. The waves of our sea crash and crumble as Flowers concedes, that it's just the price he must pay in order to reach his final form. Destiny is calling him, just like it's calling the rest of us. "Mr. Brightside" is a universal anthem because we all experience hardships and betrayals along the road to personal greatness. Getting cheater on hurts, but it's better than being the cheater!
"Smile Like You Mean It"
Did someone order The Ultimate Coming-To-Terms-With-Coming-Of-Age-Song? Because The Killers served it! To start a song with, "Save some face, you know you've only got one/change your ways, while you're young" is a power move. The song that follows paints the picture of a sun-drenched place (Las Vagas?!) that watches young people come and go. Youth isn't forever. Someday, you'll leave your childhood home and never go back. This song helped me come to terms with moving schools in Sixth grade and leaving the life I had known up to that point behind me. Growing up has been a long process, but everyone arrives there at their own pace with similar milestones along the way.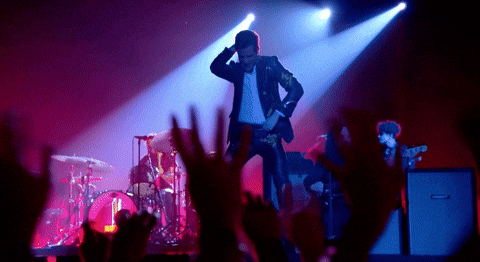 "Andy, You're A Star"
I believe this is one of the underrated gems on this album. I always loved this song but stayed quiet about it until recently when I found someone who shared a passion for it. This tune is beautiful because it exemplifies two elements. The first is that everyone is a star in someone's eyes, even if no one else sees what one persons sees. It doesn't matter. Even if you feel like you blend into the background, someone out there (hopefully the right person) will notice you. The second layer of this song is the question of queerness. The narrator seems to be a man, and Andy seems to be a man, and it's in an athletic context, where toxic masculinity runs high. Our storyteller's love is seemingly unrequinted and even forbidden, so he's forced to stand on the sidelines and watch his Andy shine. Everyone who grew up with this album knows how bitter it is to adore someone more than words, but be forced to remain silent about it.
This is just a snippet of the tracks on the album. Go give it another listen and reflect on where you were the first time you heard "Mr. Brightside".